Spring 2014 Style Trends for the Modern Woman – Feminine, Worldly and Relaxed
One of the most popular ways to find out about the latest fashion trends is by reading fashion magazines and watching the season collections online. However, what I find most useful is strolling past the apparel store windows to see what's in the front and center for Spring. I often gravitate towards the classic yet striking lines at Ann Taylor, so I asked Lisa Axelson, Ann Taylor Creative Director and Council of Fashion Designers of America (CFDA) member on what the new season has to offer. "Spring 2014 is about redefining the modern closet for our clients. We have our 'A-List' pieces, perfect for any occasion throughout the store. We've updated the look of our stores to feel light, modern and airy and showcase the full breadth and versatility of the spring collection." This Spring is a lot about color, about versatile prints and a leaner silhouette. Here's what stands out in Spring 2014 style for me.
The Six Trends that Matter
Global/Tribal
This trend encompasses a lot of Spring 2014 style features – vibrant color, draping, details, gold tones, exotic and unique prints, embellishments. There is something bohemian about the look, something very worldly. I like the artistic inspired prints but especially paisley. The prints go anywhere from abstract to more predictable patterns but each makes a statement.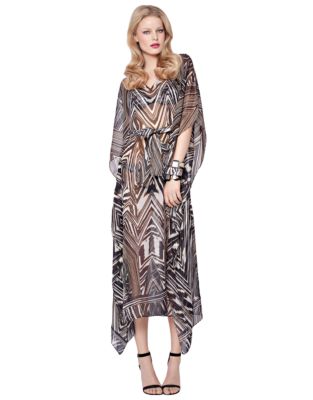 Vibrant Hues
You'll also notice a lot of bright shades this Spring. Elin Boman, ECCO representative says
"This Spring, brights are making a major comeback. These energetic shades can be mixed with neutrals and traditional pastels for a more subtle look, or can stand alone as the focal point of a more dramatic ensemble. Whichever way you choose to wear this emerging trend for 2014, make sure you're having fun!"
Bright green is definitely one of the big winners in 2014 and I guarantee you will be seeing it a lot this Spring.

Spring Pastels
Subdued pastel tones are making a splash this Spring. This actually makes it easier to balance/match them with a darker shade – sort of homemade ombre – and it's very feminine. Ocean colors especially stand out for me. Many of the colors remind me of Easter candy, and I love that this trend is also used in accessory brands as well – from shoes and glasses to bracelets and watches. The best way to wear pastels is to stick to one shade per outfit and really make it a hero, and then add either a bolder hue or a print to go with it.

Florals
Florals go beautifully with the popular watercolor-tinged shades of the Spring 2014 season – blues, greens, lavender. Florals tend to be in style this time of year every year, because they are so full of femininity and unique design possibilities – appearing on everything from tops and tees to blazers, dresses and even shorts. What I especially love about florals this year is that they are often unpredictable, with untraditional patterns and with unique hues. A few great examples of that are below – Peter Pilotto for Target  and the pants and belted skirt from Ann Taylor.

Stripes
Stripes are everywhere and not only in apparel but also in accessories and early Fall 2014 shows seem to keep this trend more than alive. They are common on jackets and skirts but when worn on pants will compliment your body by elongating the leg.


Though a completely different type of print, polka dots are very popular for Spring and often paired with stripes.

Team Sport Vibe
I'm sure many Moms will embrace this athletic trend – wearing sporty clothes is plain comfortable when you are shuttling the kids to activities or getting groceries or actually stopping at the gym. But since we're talking about fashion, it doesn't have to be yoga pants but rather updated with style varsity jackets, color-blocking hoodies, sophisticated jersey pants (paired with a blazer) and all kinds of graphic prints. Or, try pairing one of the sporty pieces with a skirt and heels for a hip and dressy look.

Top 5 Pieces You Should Buy for Spring
Capri Pant
This as much as the boyfriend jean (typically shorter length than the classic styles), is a perfect complement to Spring-style weather.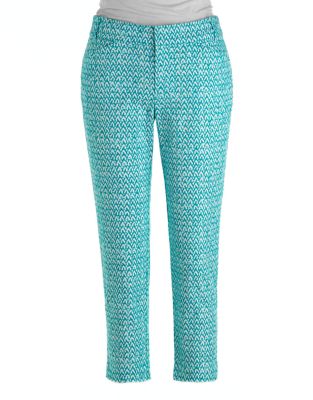 Oxford Shirt
This preppy look is surprisingly dominant for this season appearing not only as a shirt paired with traditional pants and skirts but also in dresses and even bags. Oxford shirt has a lot of attitude this season, with unique collars, fabrics and accessories that you can add to it – don't be afraid of gold!

Pencil Skirt
Pencil skirt is a winner almost every Spring – it's a great way to instantly look leaner and taller. Plus, it adds class and polish to your look. Paired with a sweater or an also popular crop top, it can be more casual, while an Oxford shirt will make your look more work-ready. Spring 2014 pencil skirt is updated with interesting texture (as in this white pencil skirt from Ann Taylor) and accessories.

Tea Length Dress
Feminine, flared at the bottom and often floral, this Grace Kelly inspiration was seen all over the Spring runways.

$36.90

Brand from China: Romantica. Color: Black, Materials: 100%Polyester, Size: M: Total Length: 52cm, Bust: 90cm, Waist: 66cm, Pants Length: 92cm, L: Total Length: 53... [Read more]

Store: YesStyle.com

Brand: Romantica

Floral Print Short-Sleeve Chiffon Dress

$32.90 $26.32

Brand from China: Cherry Dress. Color: As Shown In Figure, Materials: Polyester, Size: S: Total Length: 96cm, Bust: 90cm, Waist: 70cm, Shoulder Width: 37cm, Sleev... [Read more]

Store: YesStyle.com

Brand: Cherry Dress