Fall 2012 Fashion: The season of the Strong & Powerful Woman
This is the season of a woman in charge. It's visible in dominant leather, bold curves and colors, vibrant textures and eccentric details. There is also a touch of luxury – from fur accents to gold brocade, ladylike structure and animal prints. While the styles are brought by high-fashion designers, real life fashion will surely reflect the overarching trends. Here are the top style trends for women's fashion this Fall.
The Stark Black
The dramatic black creeped up into its own trend over the last few years – with black nails and black accessories starting things up. Don't get me wrong, black has always been a classic and has shown up on the runways in many variations, but nothing as prevalent as this Fall. From Calvin Klein's black leather dresses to Narciso Rodriguez black jackets, Diesel black leather pants and Michael Kors trenches, Gucci and Chanel leather and lace, it's the hottest hue of the season. It's dark, brooding, and definitely full of attitude. I saw plenty of black tops at H&M that would hit the mark. While most designers used it on leather, it was reflected in all fabrics throughout.
Fall Colors
The warm yet dramatic hues of the season are definitely dominating Fall 2012. Orange is still a hot color – on jackets, dresses, shoes. Now red of all shades, and especially the wine red or burgundy is a big standout this season. There is something vampirish about the colors of the season. Or, perhaps it's also the styling of Fall fashion – perhaps a makeup trend where red lip is a big winner. Ralph Lauren used a lot of burgundy in his fall collection with his velvet suit being the biggest knockout.
Gold Brocade
There is something Elizabethan in the amount of gold ornamentation in the Fall 2012 fashion for women. My favorite examples from the runway are Dolce & Gabbana gold brocade black coat and dresses. They are simply mesmerizing. Others include Salvatore Ferragamo skirts, Ralph Lauren dresses and Lanvin suits. Embroidery overall seems very prevalent in Fall fashion this year. This dress from Sears is a perfect reflection of the trend. Peggy Li, a jewelry designer whose work has been seen on TV's Private Practice, on the pages of Lucky Magazine and more, says "I'm loving the luxe look of black and gold and the return of brocade. After feeling the pinch of the economy recently, a return to luxury feels indulgent and fun!" And I would second that.
Peplums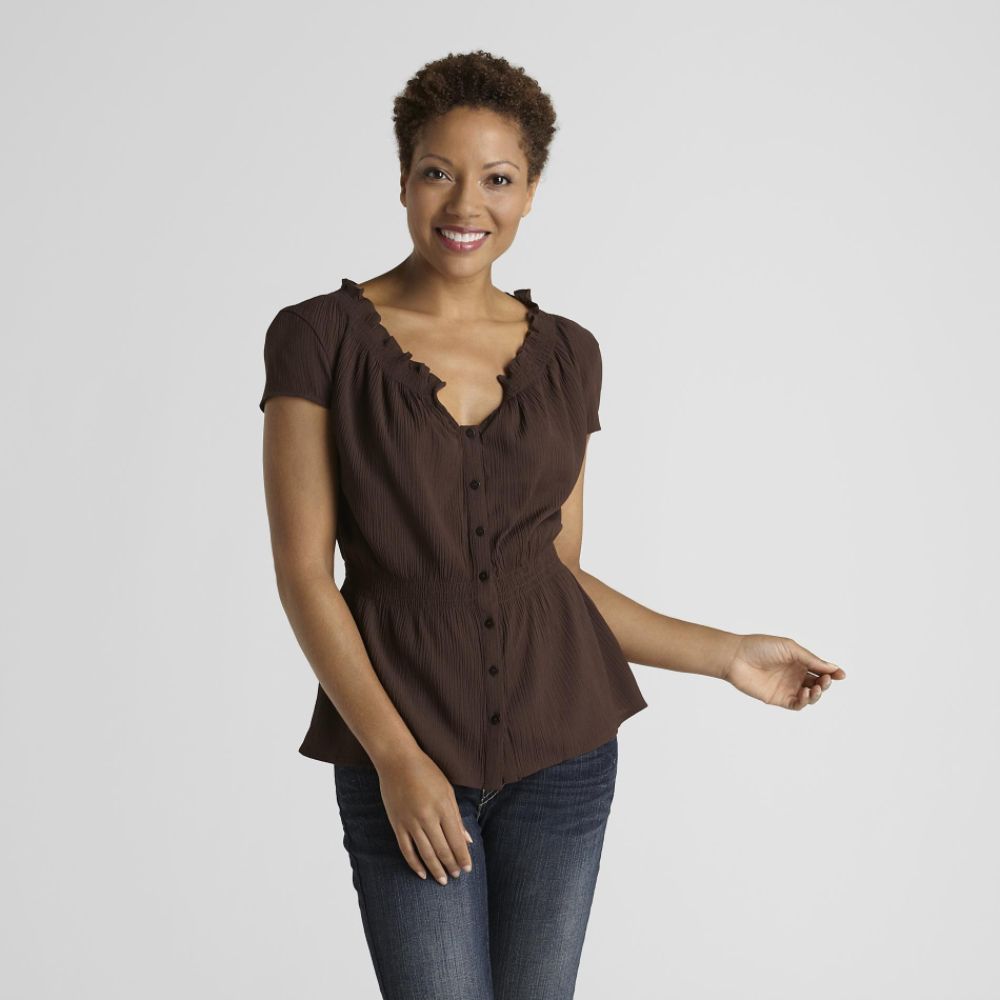 Literally, peplum stands for overskirt. The emphasized hips and elongating effect it offers to the cinched jacket or blouse does wonders to make the outfit more feminine. Virtually every designer included this flattering hourglass silouette in their collection. From Stella McCartney skirt suites to Armani dresses, Carolina Herrera full-hip skirts to incredible detail on Bottega Veneta dresses and ultra-feminine Marc Jacobs skirts. If I was to name one biggest trend of the Fall 2012 fashion season, it would be peplum. "A peplum style this fall is the perfect option for most body shapes", says Dawn Del Russo, a Fashion & Lifestyle expert and founder of Bella Dawn. "It hides a tummy and creates curves for smaller figures. A top with s small peplum is the perfect way to start and then try it in a dress or coat style."
Fur Accents
Perhaps, it's the season, or maybe it's designers' choice but Fall 2012 fashion seems to have a lot of layering. Quite a few designers featured pants, skirt, shirt and jacket in one outfit. Designers also mixed fabrics – there is a lot of leather with fur or silk with fur. Fur accents are huge on everything – sweaters, coats, bags, boots. "Designers like Carolina Herrara and J Mendel all had fur trimmed accents walking the Fall runways", says Dawn Del Russo. "It is a simple way to incorporate a super luxe trend into your wardrobe. With faux styles it is easy to to get the look without breaking the bank.  The key is to keep the amount of fur minimal, just around the edge of a sleeve, top of a boot, or on the collar. " Or, if you want to take it up a notch, try fur accents on an evening dress, as in this gown from Terani Couture's Fall collection.

Lady-like: Pleats, Pencil Skirts & Lace
The elegance of pleats, pencil skirts and lace brings us to perhaps another era. It's very lady-like and seems a bit of a contrast to the vampy black and gold, which are definitely more dominant trends. "Mad men has made for pencil skirts, which popped up all over the runway and are in step with the tailored lady-like resurgence in fashion", says Pamela Pekerman, TV correspondent and Accessory & Style Expert (www.PamelaPekerman.com). " We're taking back the skirt and showing off leg in an office-opportunity yet still seductive way. Jut channel your inner sexy librarian. And, don't forget a bold red lip. ;)"
Dawn Del Russo says Michael Kors used lace strategically on his Fall 2012 runway. "It is a great example of how to wear it without revealing too much. Layering lace pieces underneath similar color pieces like a blazer or skirt is the way to do it this Fall. Some styles have it already built in like a lace illusion dress."
Animal Prints
Prints of all kinds were strikingly rich in all the Fall 2012 fashion collection. Balenciaga tiger print surprised many. But it is the leopard print that is particularly strong. A few examples in coats came from Ralph Lauren and Diane von Furstenburg, but Target also brought in a lot of animal print inspired outerwear. Juicey Couture took the trend bigger with lots of animal prints on tops, capes, dresses and even eyewear.
Mod/60s
Part color-blocking of this season, part the simple structured silhouette, as in Calvin Klein designs for Fall 2012, but it's obvious that 60's Mod style is in. Marc by Marc Jacobs printed shirt and simple short A-line skirt or Tommy Hilfiger dresses, Celine jackets and anything by Stella McCartney (short, graphics, colorblocking) – all points to the hip tailoring and fun color mixing of the 60s. Mod structure and detailing at Prada also offers a pop of purple and red – a combination not often seen in colorblocked ensembles. Geometric prints in many collections add another layer of the 60s effect.
Bright Jeans
Jewel colored jeans are the hottest thing in ready to wear fashion for Fall. Skinny is still a favorite and look best in bright colors, but boyfriend jeans and bootcut are big.
Some designers even offered leather jeans in a variety of colors, like 7 For All Mankind.
Moto Jacket
The old friend is back with a vengeance – and in new hues, such as the popular orange. There is a little more play with sleeves as well. Some of my favorites are Versace and Burberry. Balenciaga had a few examples of two-toned leather jackets – in red and black – the two big colors of the season. Dior leather was absolutely stunning.
Oversize Coats
Fall 2012 fashion is aiming big and bold, and spacious coats are another side of that. Roomy and long Max Mara coat or oversize collar on most other designer coats are the styles you could emulate if you are looking for the most fashionable jacket styles for fall.
$36.90

Brand from China: Romantica. Color: Black, Materials: 100%Polyester, Size: M: Total Length: 52cm, Bust: 90cm, Waist: 66cm, Pants Length: 92cm, L: Total Length: 53... [Read more]

Store: YesStyle.com

Brand: Romantica

Floral Print Short-Sleeve Chiffon Dress

$32.90 $26.32

Brand from China: Cherry Dress. Color: As Shown In Figure, Materials: Polyester, Size: S: Total Length: 96cm, Bust: 90cm, Waist: 70cm, Shoulder Width: 37cm, Sleev... [Read more]

Store: YesStyle.com

Brand: Cherry Dress